Who We Are
The Carriage House Café and General Store at SUNY Cobleskill brings members of the community and College together around locally-made and grown farm-fresh goods. A place for area farmers and businesses to feature homemade products, guests come from near and far to shop for produce, meats, dairy, dry goods, and more.
As a resource for the College, the Café and General Store moves to the forefront of educational initiatives enhancing SUNY Cobleskill's ability to provide field training and experiential learning to students across disciplines. Share the joy of farm-fresh goodness with us in the historic setting of our re-imagined Carriage House.
126 Schoharie Parkway North, Cobleskill, NY • 518-255-5566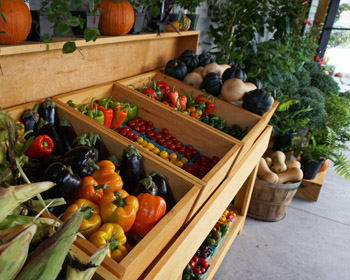 When We're Open
Tuesday: 10 a.m. - 4:00 p.m.
Wednesday: 10 a.m. - 4:00 p.m.
Thursday: 10 a.m. - 7:00 p.m.
Friday: 10 a.m. - 4:00 p.m.
Saturday: 10 a.m. - 4:00 p.m.
Closed Sunday and Monday