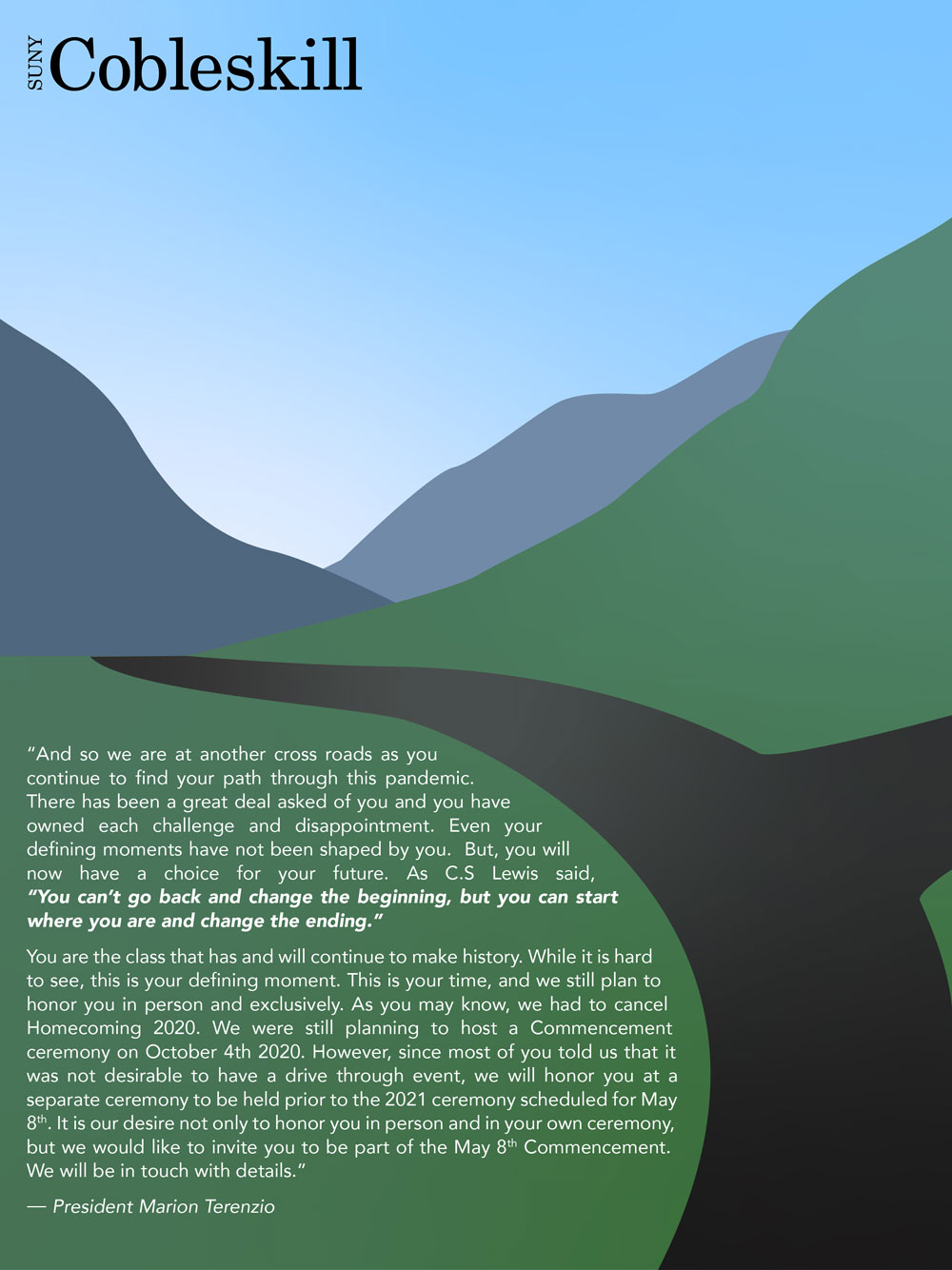 You, the Class of 2020, are truly special and will go down in history for your perseverance and patience through this pandemic. We will be holding a special commencement ceremony for you in May 2021 and invite your participation. Please check back to this page for more details. If you have any questions, please contact Amy Healy at healyak@cobleskill.edu or (518)-255-5118.
Saturday May 9, 2020

Academic Awards Ceremony.
Recognition of May 2020 Graduates.
As the semester draws to a close, we slowly emerge from a strange and valuable learning experience. Yes, I said valuable, because you pushed through your fears and worries and performed tasks that you thought were not possible. You were courageous, and you persevered even when it would have been easier to quit. You did not. Your times of doubt and worry have not gone unnoticed, and all of you deserve a round of applause. That will be coming soon.
We plan to recognize your triumphs and your struggles along with your awards and achievements through a series of virtual celebrations. We will begin on Wednesday, May 6th, with athletic awards. The senior graphic design show will be held on Thursday, May 7th . On May 8th , we will honor our athletes and student leaders. And, on May 9th, the day originally scheduled for our beloved Commencement, we will celebrate your academic achievements. Please find the schedule of these virtual events below.
To the graduates, while we will virtually recognize your achievements in May, your special in-person Commencement celebration will be held on Sunday, October 4th at 11 am. We will provide more details about the ceremony. Rest assured, Sunday Oct 4th will be your day, and your day only. The Homecoming events will be occurring on Friday and Saturday, with a focus on the graduates, and Sunday will be the crowning moment, your graduation.
Past Virtual Events:
Wednesday May 6, 2020

Athletic Awards:
Thursday May , 2020
Friday May 8, 2020

Athletic Awards:
Student Development: